Happy Day-After Christmas (boxing day? I don't get that one)
Sadly, I'm at work. But happy that the office is empty so I'm listening to Joni Mitchell so I can have allll of the feels that come with her music. There is also something Christmas-y about Joni...maybe because of Love Actually and Emma's statement that Joni taught her cold British heart how to feel. Gosh, how heartbreaking is that scene...when she is up in her room, listening to "Both Sides Now"...especially that version of it...crying but wiping away the tears with the heel of her palm. Yikes.
Stupid Alan Rickman.
One more tangent...remember when Emma was married to Kenneth Branagh, and he cheated on her and left her? For stupid Helen Bonham Carter???? Right. I think of that whenever I watch this scene. That maybe Emma had some practice for it.
But Emma did QUITE alright for herself...marrying the devilishly handsome Mr. Willoughby from Sense and Sensibility. And she got him while filming the movie...get it Emma. You get it.
But we aren't here to talk about that, are we? No. We are here to talk about BOOOOOOKS
Here are the rest of the books that I bought for friends (the ones I got for parents are specifically from their wishlist, so that did not take any cleverness or creativity...so they won't be mentioned.
For the brother that joined the navy and is bummed that all the cool adventure books are currently being written for girls:
My 19 year old brother Sam has been in San Diego to wrap up his training before being stationed at Norfolk and beginning his travels to Europe. Books are the perfect gift for him with all the flights and time aboard ships. Though he has written Hunger Games and Divergent, there haven't been as many dude books lately. Which is fine. But it can be a bummer. So here is what I got him
also, since he read World War Z and loved it, I thought this would be a good fit
My 15 year old sister that wants to be Katniss
My sister read the Hunger Games and needed another girl strong "girls can kick butt" book series...
so, naturally I went to my personal favorite,
you might remember that I also gave this to my boss...who is in his 40's. And you will see that this one comes up again. I highly recommend it.
I want her to be reminded of how sweet, amazing and awesome her life really is. So this notebook was a fun fit for that. With it, i gave her the assignment of just writing the fun, amazing, awesome things that happen to her each day.
For the co-worker that is more of a really close friend and doesn't know how to cook
That one was pretty specific. I've become really close friends with my co-worker Lindsay. We both talk about the fact that we don't cook. It's not that we don't like it, it's just there isn't time to do it, and it's boring to cook for one person.
So, once i heard of this book, I had to jump on it...buying one for each of us!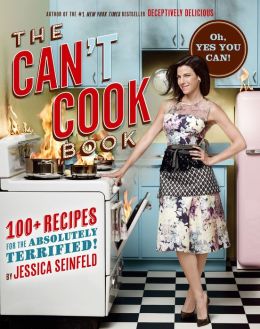 it's adorable, the recipes are easy and delicious. Jessica is so funny!
For the 2 best friends that you'd be lost without
I was so proud of these gifts! then something funny happened...
Shaynah
this book is hilarious...all drinks based on classic literature. They all look easy and amazing! It was the PERFECT gift for Shaynah. She loves experimenting with drinks...and loves to read.
THEN something happened...
YAYYYYYY but you can't give a pregnant woman a book about mixing drinks when she can't enjoy them...
so I threw in Divergent. Again. for the 3rd time. What does that tell you about this book?
Kristie:
this adorable book is exactly what it says...instructions for life skills that would make Jane proud. Though, there are still some scandalous moments...it suited Kristie to a T.
But after that...i had to give her something...less proper. Upon opening this gift, and me telling her the next would be less proper...she asked "is it hotties?"
yup
So there you go!
That was the easiest Christmas of my life...
and now...one last person I shopped for...
For the girl who likes unicorns, bob dylan, classic literature, woody allen, and didn't get any of the books she wanted for christmas
YAAAYYY ME! I didn't get a single book for Christmas. So now a girl's gotta do it for herself. Today I decided to buy the books I really REALLY wanted.
Suze Rotolo was Bob Dylan's girlfriend in the 60s, and his muse. She was on the cover of Freewheelin' Bob Dylan. She died a few years ago, but wrote a memoir of Greenwich Village during the time she and Bob were together. I've wanted this one for a while, and decided to go for it!
I've heard amazing things about this book...and wanted a good read for an upcoming long weekend and plane ride
AND last but not least...
My angel-baby, soul mate, future husband and the love of my life, Questlove, wrote this book. That is the only reason i need to buy it. But he talks about music, life, records and his other true love, Soul Train. I CANNOT wait for this book to arrive
Ok all! I hope this was fun and helpful and inspires you to go the easy route next Christmas. I already have a theme lined up for next year...i'll keep you posted!
Happy Christmas and I hope your new year is filled with the happiest, best, most awesome things that the Lord can pour on you all! And that it's filled with LOTS of good books!