over christmas i posted about a lot of books. so many. and the ones i bought for myself.
well, here is the thing...i've taken my time reading them. because i did that thing where i started them all at the same time.
i'd go to my saturday coffee place with 3 books, and just rotate. that's the dumbest idea ever. like...ever.
the other issue...they were all non-fiction. which is great...but i need some fiction mixed in there. i need a novel.
so i was kinda burnt out. fast.
then...i got an amazon prime subscription. just the 30 days. i went bananas
i bought a lot, borrowed a lot...
did a few "book-a-day" days...
so here is the list, with my rankings. Please note that there isn't much rhyme or reason to my ratings. so take away what you will. you will notice that several of these books are intended for people younger than me. whatever. i do what i want.
Why We Broke Up by Daniel Handler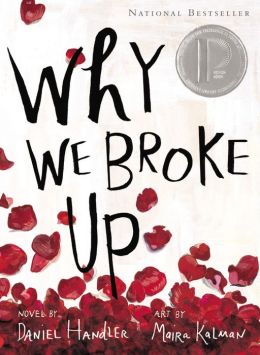 this book follows the story of a teen couple, told by the girl, Min, through a letter she is writing her ex, Ed. With the letter is a box filled with items. She explains each one, the story behind it, what it meant to her, ending each story with "and that's why we broke up"
It's sweet, it's sad, and lovely. Min and Ed are total opposites. And that's why they fell in love. It was a quick read, perfect for the pool
I give it 3 Diet Cokes
The Fault in Our Stars by John Green
my mom and i had a rule when i was growing up. I wasn't allowed to see the movie unless i read the book first. it was so annoying. the only time i got away with it was when our youth group girls and moms went to see Emma. I realized the importance of the rule when during the movie i thought "this is just like Clueless!"
The Fault in our Stars is a teen book. It's a movie that comes out this week. I read the book SO fast, crying through most of it, and falling in love with John Green. I already loved him from his
Mental Floss videos
, but now i am in love with his writing. You will quickly realize this as the list progresses...
this book is incredible. it's a story of cancer. Hazel has cancer. she has accepted it. But she falls in love with the oh-so-charming Augustus, a cancer survivor. he's witty and wonderful. he adores her. She struggles with the fact that she doesn't want to hurt him...by dying. She calls herself a grenade. She doesn't want his life to be ruined by her possible death. It's beautiful. READ THIS BOOK. Before you see the movie if you can.
I give it 8 Diet Cokes and a box of kleenex
Gone Girl by Gillian Flynn
there are 2 things i wish.
1) that you could see my face right now, as i am typing about this book
2) my face when i finished this book
Again with the book before the movie. YOU GUYZ. this book is crazy. I realized I should probably read a book intended for grown-ups. My word. It's a thriller. A mystery. I had part of it spoiled for me, but it didn't make this book any less crazy. It's dark. It's...messed up. It's amazing. when i finished, i just sat for a minute, thinking. I woke up the next morning things about it more. Lots of thinking. Lots of shaking of my head. I didn't love the ending. but i accept that it's the only way it could end. And one thing about her writing...you don't really cheer for any of her characters. you don't like them. you respect them, you might understand them...but you don't like them.
The movie is going to end differently. Gillian already said so. She's writing it, so that says something.
This is one of those books where I recommend it, but i give a disclaimer. This is some effed up s.
but its so good.
The story is about Amy and Nick Dunne. Amy goes missing the morning of their anniversary. Nick is suspected, though when you read from his point of view, you get the impression he literally has no idea what's going on. It jumps from Amy's Diary throughout their relationship to Nicks current day inner dialogue. Guys...wow.
I give it...a 3 liter of Diet Coke.
Paper Towns by John Green
Told you. John Green man.
So i didn't love this one as much as Fault in our Stars. But it was good. It's different.
This story follows Quentin during his senior year of high-school. He's always been in love with and fascinated by his neighbor Margo. Margo has a well-planned adventure for them one night...and then mysteriously disappears.
Q decides to take it upon himself to follow the clues and find out what happened to Margo.
I know it's vague. but this is a great book. It's smart, funny (there is a bit about the worlds largest collection of black Santa Claus figurines that had me laughing quite loudly)
Like i said, not as great as FIOS, but good.
I give it 3 Diet Cokes
Dark Places by Gillian Flynn
So, since reading 2 of John Green's books worked out so well, i decided to try another of Gillian's. Yikes.
if you have an iphone, you might be familiar with emojis. There is one where the face is wide eyed. Like, almost all eyeballs. it's my favorite. It's supposed to show shock, surprise, awkwardness.
that is the face i had for this book.
It's good...don't get me wrong. But if Gone Girl was dark...this one was just messed up. This one will also be a movie. And I will absolutely see it. And i read the book in a day. I sat on my couch and read it from cover to cover. That says something.
This book is about Libby Day, the lone survivor of a mass murder murder. Her 2 sisters and mother were killed in their home when she was 7. Her older brother was convicted of the murder, in large part due to her testimony. Now, 25 years later, she is contacted by a "murder club"...a group of people who are fascinated by unsolved or high profile murder cases. They want to talk to her, get her thoughts, and prove to her that her brother is innocent. As well as to pump her for details. Desperate for money, Libby agrees. She starts to question things that she had been sure of in the past, and begins to look into things again.
Just like Gillian's other book, you jump around time and perspective. Lots of day of point-of-views from her mother, brother and current day from her. You are putting the pieces together with Libby.
Like i mentioned in Gone Girl...you don't really like any of these people. You like some more than others. but you don't have someone that you truly care about and are rooting for. Maybe the mother a bit in this one. but still...they are all quite flawed. Interesting read. If you are ok with dark stories, go for it!
I give this one a Diet Dr. Pepper...it's what I will drink if they don't serve coke products. And a nightlight.
Eleanor and Park by Rainbow Rowell
if my face was the big eyed emoji for the last book, my face was heart-eyes emoji for this one.
I was so messed up from Dark Places (just because i finished reading at 11pm and my house was empty and dark) that I needed something lighter so I wouldn't have messed up dreams. So i thought i'd read a chapter or 2 of this before bed. Cut to an hour later when i'm 2/3 of the way through this book.
It's so good. It's sweet, swoony, amazing.
Imagine Twilight without vampires mixed with all of Pretty in Pink. This book is just lovely.
Taking place in the mid eights, Eleanor is the new girl at school. She's 16, poor, dresses the way she wants, and awkward. She's a misfit. Park is accepted by the cool kids. he is also 16, pretty geeky and also a misfit. The 2 bond over music and comic books on the bus ride to and from school. They deal with heavy life situations (abusive home, culture differences, bullying at school) but fall in love.
This book is a teen book, but really, anyone can read it. I read the last bit of it at the pool and sighed so many sighs throughout.
i give this book a diet coke and a Ryan Gosling.
Fan Girl by Rainbow Rowell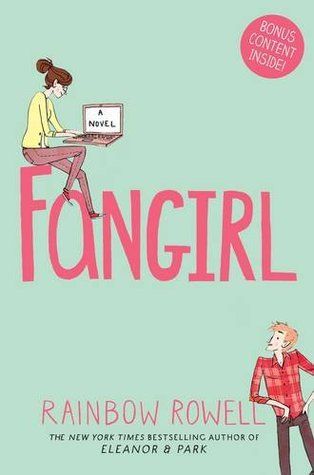 Yea yea. I did it again.
If you like Harry Potter, you'll love this. Not that it's anything like Harry Potter.
I tried to find the best way to explain this book...but couldn't. So here is what Amazon says:
In Rainbow Rowell's
Fangirl
, Cath is a Simon Snow fan. Okay, the whole world is a Simon Snow fan, but for Cath, being a fan is her life--and she's really good at it. She and her twin sister, Wren, ensconced themselves in the Simon Snow series when they were just kids; it's what got them through their mother leaving.
Reading. Rereading. Hanging out in Simon Snow forums, writing Simon Snow fan fiction, dressing up like the characters for every movie premiere.
Cath's sister has mostly grown away from fandom, but Cath can't let go. She doesn't want to.
Now that they're going to college, Wren has told Cath she doesn't want to be roommates. Cath is on her own, completely outside of her comfort zone. She's got a surly roommate with a charming, always-around boyfriend, a fiction-writing professor who thinks fan fiction is the end of the civilized world, a handsome classmate who only wants to talk about words . . . And she can't stop worrying about her dad, who's loving and fragile and has never really been alone.
For Cath, the question is: Can she do this?
Can she make it without Wren holding her hand? Is she ready to start living her own life? Writing her own stories?
And does she even want to move on if it means leaving Simon Snow behind?
.
This book is fantastic. Again, a 1 day read. It's sweet and funny. It's romantic and sad.
I give it 4 diet cokes
Now, onto the rest of the stack for the summer
Looking for Alaska by John Green
I just love him guys. I don't really know what this one is about. but I don't care.
Man Repeller: Seeking Love, Finding Overalls by Leandra Medine
I'm a big fan of Leandra. her blog, Man Repeller is hilarious. I love her style. So so much.
This book is a bit of a memoir. so far I love it
ok...stay with me on this next one...
Fairy Tale Interrupted: A Memoir of Life, Love and Loss by Rosemarie Terenizio
I see your face. you are confused. you are judging me.
maybe you can't even tell what this book is about from the cover.
let's back up a few weeks ago. i randomly remembered the episode of Seinfeld when Elaine found out that John Kennedy Jr had noticed her at the gym. Remember that one?
I started thinking of that. Then a few days later I remembered that John and Caroline had faked a big break up fight for the paparazzi right before getting married...so they could do it under the radar. Then i just started thinking about them. I found this book. I got it for $2. The whole story is told by his personal assistant. She goes have goo-goo eyes about John. She remembers days she was mad at him, when he was a jerk. But all of it is done affectionately. He was like a big brother to her.
I'm going to start it soon. I'll let you know. Judge me if you want, but you know you are curious.
that's it for now!
oh...and guys...this happened.
just when i thought my best fried couldn't make me love her and her family more...she had to give me a niece.
This is Layla Grace. And she is the best thing since sliced bread. Since diet coke. She smells like baby and unicorns. She likes her mom, nenni snuggles and nothing else. i adore her.